Veneers in West Hollywood & Beverly Hills, CA

Custom veneers from Dr. Oshin aren't designed to cover your whole tooth like dental crowns – instead, they're permanently bonded to the front of your smile, enhancing your appearance and hiding aesthetics behind gorgeous flawlessness. Veneers provide a simple, minimally invasive way to alter your smile for the long term. Luckily, tooth preparation is also minimal.
Even though traditional veneers are thin, they would be a bit too bulky if they were immediately applied to your teeth. Your West Hollywood, CA dentist will need to prep your teeth by removing a small amount of enamel from the front surface of your teeth. The veneers are then bonded over your natural teeth where they can stay for decades.
It doesn't matter if your front teeth are too small, darkly discolored, chipped, or broken. Veneers can make them all look the same—white, smooth, healthy, and evenly shaped. You might feel like some kind of miracle has been performed when you look at your smile after your treatment is finished.

Veneers can solve a variety of common cosmetic problems including:
Chips
Stains
Minor gaps between teeth
Crooked teeth
Worn-down teeth
Oddly shaped or sized teeth

The Process For Getting Porcelain Veneers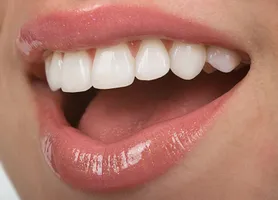 Having a porcelain veneer created and placed usually takes two to three appointments at our West Hollywood, CA office. The first step will be your consultation appointment, during which you'll discuss personal goals for your smile with Dr. Oshin. Once we've determined veneers are the right choice for your smile, our team will prepare your teeth and take detailed impressions that will be sent to a premier dental laboratory. In the meantime, we'll place a temporary veneer for protection.
Once the finished veneer is ready, you'll be invited back to our practice so Dr. Oshin can make needed adjustments and bond the custom restoration in place, completing your new and improved look. We won't rest until you're fully satisfied with the results!
If you're ready to make a dazzling change for your smile, contact our West Hollywood practice today and schedule a consultation with Dr. Oshin. Our team looks forward to welcoming you and providing the quality care and comfort you deserve. Patients from The Valley, Beverly Hills, and beyond are also welcome.
Interested in transforming your smile with dental veneers? Call our West Hollywood, CA office
today at (310) 246-0995 for more information or to schedule an appointment!

Also serving Encino, Hancock Park, Beverly Hills, CA & surrounding communities.