Cosmetic Dentistry in West Hollywood & Beverly Hills, CA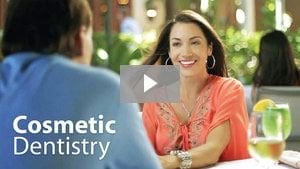 Achieving the dazzling smile of your dreams doesn't have to be a difficult process. Instead, patients can turn to Dr. Oshin and his dedicated team for an experience that's always comfortable, personalized, and high in quality. Our available cosmetic services can beautifully erase a wide range of dental flaws, from chips and cracks to discoloration to tooth damage, and by the end, our goal is to leave you with a new look you can't wait to show off. Contact our office today to schedule a consultation! We're located in West Hollywood, CA, and patients are also welcome from Beverly Hills, Sherman Oaks, and all over The Valley.
Take a look. The makeover process is all about giving you the smile of your dreams. So take a good look at your smile and note what you like and don't like about it. Some questions you can ask yourself are:
Are your teeth as white as you'd like them to be?
Are any teeth chipped, cracked or worn?
Does your smile have a gummy appearance?
Do your teeth seem too large or small?
Do you like the alignment and spacing of your teeth
Are you self-conscious about crookedness or gaps?
Cosmetic Dentistry Procedures:
Dental bonding and reshaping
Teeth whitening
Dental veneers
Dental implants
Dental filling
Inlays/onlays
Porcelain Veneers

Deciding on multiple treatments for your cosmetic dentistry needs can be a handful for many patients. Wouldn't it be great if you could achieve a gorgeous transformation all at once? Porcelain veneers from Dr. Oshin in West Hollywood make this dream a reality. Take a look at our veneers page to learn more!
All-Ceramic Crowns

Gold and silver crowns just can't give patients the lifelike results they need to feel great about their smile again. Instead, turn to Dr. Oshin for an alternative that's seamless and high in quality – E-Max ceramic and zirconium crowns. Take a look at our all-ceramic crowns page to learn more about these VIP options.
Teeth Whitening
Most people believe that dental stains are a sure sign of poor oral hygiene, but this just isn't true. In addition to a love of coffee and wine, these frustrating spots of discoloration can occur for reasons completely out of a patient's control, including genetics, age, and certain medications. Everyone deserves a brighter smile – that's why Dr. Oshin offers both in-office and take-home teeth whitening!
Our in-office whitening procedure could be the right choice for you if you want to achieve fast, stunning results. The process only takes around an hour, and Dr. Oshin and his team will handle all the work while you sit back and relax. Our customized take-home kits are also available for convenient touch-ups and patients who'd like to make more gradual changes on their own schedule. You simply need to wear the high-grade bleaching gel and oral trays we provide together for a certain amount of time each day. In just a couple of weeks, patients should see beautiful improvements.
Tooth-Colored Fillings

In the past, patients have had their cavities restored with amalgam fillings that stand out noticeably in a natural smile. Here in West Hollywood, we want to restore both your oral health and your sense of self-confidence with our restorative solutions. That's why Dr. Oshin offers quality tooth-colored fillings that blend in seamlessly with your natural smile. In addition to their cosmetic quality, tooth-colored fillings are also more conservative, meaning we preserve more of your healthy tooth structure when placing them. They're also not sensitive to changes in temperature like amalgam materials, which makes them much more comfortable.
There are lots of decisions to make, but don't worry — dentists are skilled at helping you sort it all out!
Share your thoughts. Communication is an extremely important part of the smile makeover process. At the first makeover consultation, it helps if you describe what you would like to change in as much detail as possible. Bring along pictures of smiles you like, or of how your own smile used to look. Your makeover dentist will have some thoughts to share with you as well because dentists are trained to look at smiles in terms of facial balance.

Make a plan. An important part of planning a smile makeover is a comprehensive dental exam. Cosmetic Dentistry offers an amazing array of lifelike tooth restorations and treatments; but first, any conditions in your mouth that may jeopardize a good result must be taken care of. If your teeth are discolored, for example, the reason must be determined. You may have an underlying dental disease that needs to be treated before whitening your teeth; otherwise, the whitening may not last. Likewise, if you often drink red wine or other beverages that stain, you might do better with porcelain veneers than bleaching treatments.
Try it out. A smile makeover is an investment that is meant to last. That's why many of the procedures performed are irreversible. So if you are contemplating some changes, it's a great idea to try them out before you fully commit to them. There are many ways to preview the results: computer imaging, 3-D models, and even placing temporary restorations on your teeth so you can see what the final results will look and feel like in your own mouth. This also allows a fine-tuning of the makeover plan.
A "trial smile" is a great way to eliminate unknowns in the makeover process. But when it's all done, there's still one thing you may not be prepared for: how great it feels to flash your new smile to the world!
Ready for a new smile with our Cosmetic Dentistry services?
Call our West Hollywood, CA office today at (310) 246-0995 for more information or to book an appointment!
Also serving Encino, Hancock Park, Beverly Hills, CA & surrounding communities.