Dental Implants in West Hollywood & Beverly Hills, CA
Losing one or more teeth can be a devastating experience, both for your oral health and sense of self-confidence. What's worse is traditional replacement solutions like dentures and bridges can't give patients the lifelike, natural-looking results they need. Here in West Hollywood, Dr. Oshin is happy to recommend a revolutionary alternative – dental implants. Implants are precisely designed and beautifully restored, creating a final result that's simply exceptional in every way. Contact our office today if you're interested in an implant consultation, or if you'd like to learn more about our comfortable, quality approach to care. Dr. Oshin also welcomes patients from the nearby areas of The Valley, Beverly Hills, and beyond.
Implant Placement
So why are dental implants the right choice for West Hollywood patients? The answer is simple – they're designed to replicate the entire structure of the tooth, including the root beneath the surface of the gum line. While those focused on aesthetics might not find this necessary, the truth is the jawbone suffers without tooth roots in place to stimulate it, leading to deterioration, additional oral health problems, and even a hunched facial appearance over time. Implants can prevent these issues from happening, keeping your appearance youthful and natural-looking.
The first step of the implant process is surgical placement into the jawbone. This allows the new "roots" to create a strong bond with natural bone and soft tissue, setting the stage for a lifelike restoration. For this procedure, Dr. Oshin will recommend patients to a trusted implant specialist who's conveniently located in the same building.
Dental Implant Crowns & Prosthetics
Once patients have successfully healed from their implant placement, it'll be time to return to our West Hollywood office so Dr. Oshin can design and place gorgeous, high-quality restorations on top. When restoring a single tooth, our team uses an E-Max or Zirconium dental crown to seamlessly replace the missing structure while leaving surrounding healthy teeth intact.
When restoring multiple teeth, Dr. Oshin may recommend an implant-retained prosthetic as a simpler and more affordable solution. These appliances are similar in appearance to traditional dentures and bridges, but they're designed to securely attach to your new implants, creating a much sturdier and more confident fit. They can be fixed in place or removable, depending on the patient's preference. Either way, we know you'll be amazed by how natural your newly improved smile feels!


FAQ's About Dental Implants
How Do Dental Implants Work?
Dental implants are designed to serve the same purpose as the root of a tooth. They are small titanium devices that resemble screws that are inserted into the bone tissue below the gumline. When the implant heals into the bone, which may take several months, an abutment and permanent crown are placed on the top. With a porcelain or ceramic crown, the implanted tooth is indistinguishable from your other teeth.

Why Are Implants the Best Solution?
The main reason why dental implants are the ideal solution is that they are permanent. Once they're installed, they're no different than any of your other teeth in terms of function and appearance. They also help keep the bone tissue healthy and strong. When you get dentures or bridges, the bone tissue can degrade over time.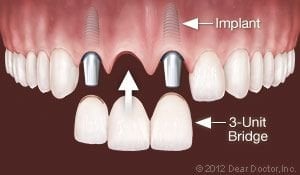 Replace Multiple Teeth
When you have more than one tooth missing, implants provide an ideal replacement mechanism. You don't even need one implant for every missing tooth. Instead, implant teeth can act as supports for fixed bridgework. For example, if you are missing three teeth in a row, we can place two implants, one on either side of the gap, and a crown in between that has no implant underneath. That way, you won't need to use any of your remaining natural teeth as bridge supports, which could weaken them and make them more susceptible to decay.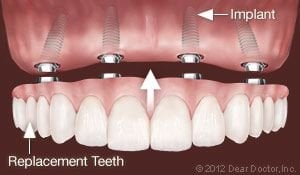 Replace All Teeth Permanently
Implants can support an entire arch of upper or lower replacement teeth that are fixed into the mouth and are never removed. Sometimes the new teeth can be supported by as few as 4 implants. It's comparable to the structure of a table, which only needs 4 legs to hold it up. In cases where jawbone density and volume have deteriorated, 5 or 6 implants might be needed to support a row of 10 to 12 teeth. Dental implant replacement teeth protect your jawbone, won't slip, and should last a lifetime.


Who Can Get Dental Implants?
Patients who have generally good dental health can get dental implants. Viable bone tissue is needed to ensure that the implants will stay rooted. That's why it's important to see a dentist for a tooth implant as early as possible. In some cases, a bone grafting procedure can help improve a patient's chances of having a dental implant integrate successfully.
How Long Will They Last?
For patients of a certain age, a dental implant has a good chance of lasting for a lifetime. The crown part of the implant can last for up to 15 years before it may need to be replaced. Seeing your dentist at least two times every year for professional cleanings and becoming meticulous about at-home dental care will ensure that the implant (and your other teeth) stays strong and healthy.
Are you interested in replacing one or more teeth with dental implants? Call our West Hollywood, CA office today at (310) 246-0995 for more information or to schedule a consultation with Dr. Anjirghooli.

Also serving Encino, Hancock Park, Beverly Hills, & surrounding communities.